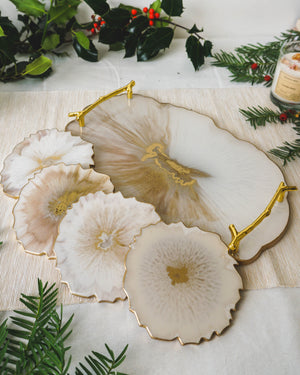 The Most Beautiful Geode Set, for the Most Beautiful Table.
Geode resin art
handmade decor for home
Rengin, founder of Resin By Ren; made it's name for itself by handcrafting and sending premium resin home decor pieces all over the world.
Whether you're looking for resin coasters set, or a serving tray to impress your party guests -
You've come to the right place!
the secrets
learn from an expert
Experienced resin artist, Rengin, is a private tutor that has taught over hundreds of students worldwide, and has successfully guided all of them to improve their resin art skills.
You can also join the hundreds of students that have learnt from Rengin today, and experience how to make your own art pieces with confidence.
★★★★★

I have loved every order I have received from Resin by Ren. Her customer service is amazing and she will do everything to make the customise the order. These coasters will make a lovely Christmas present!

Thank you!

Victoria Fox

Bury, UK
★★★★★

Absolutely stunning! They are, by far, the best I've seen on the market! I bought them as a gift but loved them so much I shared them.
Truly, anyone who likes beautiful, well-made and original things will LOVE these! Many thanks to the seller and creator - you are a rare talent and shall be hearing from me again. Thanks very much!

Jo Scott

South Shields, UK
★★★★★

Ren was a pleasure to talk to and it was such an easy process to order our custom coasters. We absolutely love the coasters and the special touches with the package were so lovely. I'm already waiting to order more from Ren.

Thank you so much!! 

Olivia Li-Higgins

London, UK